WUHAN VIRUS DAILY UPDATE FOR MAY 2
VACCINE AGAINST WUHAN-VIRUS? WAIT NO LONGER! Back on April 7th I reported on a phenomenon that seemed to indicate a strong correlation between presence of BCG vaccines against tuberculosis and resistance against the Wuhan-virus. Since then - the correlation between high density populations and deaths from Wuhan-flu are unmistakable. For America - the closer you are geographically to NYC + the density of your local population center, the more likely you are to have significant death tolls from the Wuhan-virus. The four most dense population centers in America are NYC, Guttenberge NJ, Union City NJ, West New York NJ, and Koreatown in LA.
Our new total for incidents is 1,125,719 (+30,038), an increase of 2.74% over the previous day (-0.52% from yesterday). Deaths have totaled 60,710 (+1,651) which is an increase of 2.80% (-0.34%) over the previous day. Since the peak in Mar 19, rates of growth for incidents has fallen by 48.89% and for deaths has fallen by 40.06%. There were 264,476 tests completed with a 11.36% positive rate. Being weekend numbers we'll need to wait til Tuesday or Wednesday to suss out any actual trend since yesterday. No unusual reports from amongst the states except we know deaths are still being padded per state mandate.
In general, whether or not your area has gone into lock down appears to have little relevance to the death rate of your area. It likely does help if you are in one of these high density population centers. See this chart for some samples:
Deaths per Million, Europe & America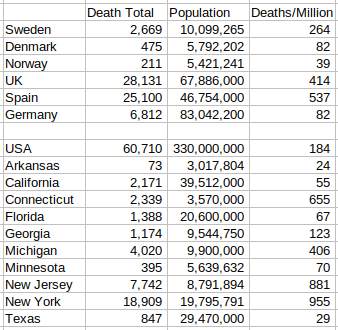 These populations are across different years but they suffice for our purposes.
Note that Sweden isn't locked down and everyone points out their neighbors as why that has failed. But when you look at other countries and states that are of similar composition as Sweden but have gone into full isolation, many would gladly trade places.
But hey, what about all those other countries with big cities elsewhere in the world? How do they fare? Prepare to be shocked!
Deaths per Million, Asia & Europe & America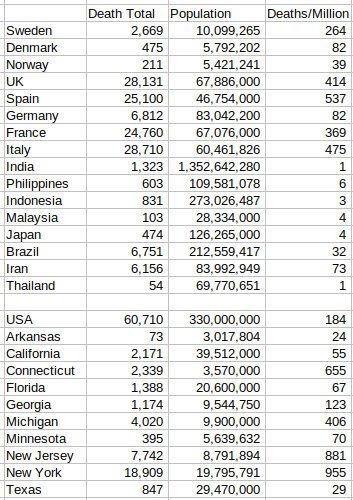 These are the most densely populated nations on Earth! No one is dying!!! Look at the list. The top cities of NY & NJ are only 8th, 23rd, 39th, and 43rd! The Philippines, India, and France should have cities devastated like NY & NJ - but, outside of France, it just isn't happening - and France not nearly so bad as NY & NJ.
Wikipedia - Cities with Highest Population Densities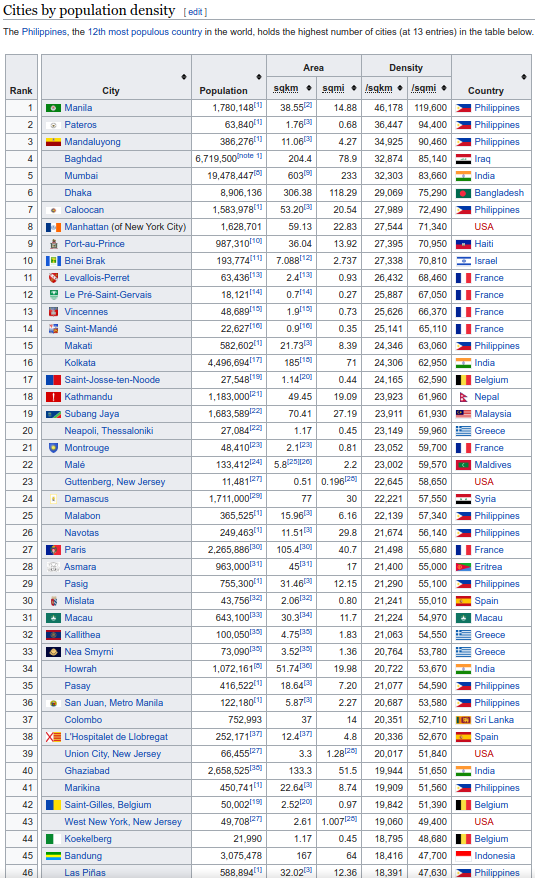 Why is this?? Well it's not lock down although people like to cite it. Thailand, where I presently reside, was the first place to discover a Wuhan-virus infection (and everyone still called it that because China hadn't started objecting yet) outside of China did not lock down until after America did and, when they did, they did so in a manner that sent out hundreds of thousands of workers in Bangkok, the place where these infections were most prevalent, back to their rural home towns with absolutely no ability to treat or prevent infections. Thailand, especially Bangkok, should be worse than Italy or NYC by far with our 13million people in incredibly close proximity and quite questionable hygiene. Instead we're tied for last place with INDIA!! How is this even remotely possible?!?!?
The only strong correlation I can identify about these places in Asia verus the West is the long term practice of full BCG vaccination in their attempts to fight tuberculosis. This article at rediff and their follow up article make a strong case that BCG vaccinations provide a strong protection against Wuhan-virus. Since early April there are studies in Europe checking into this phenomenon. As it turns out, the European nations have apparently been using a more modern strain of the vaccine from Denmark as opposed to the apparently stronger strain from Japan. This, along with the practical increased immune response from living in densely populated areas anyway could explain why Asia is doing so much better than the West. Interestingly, the UK scrapped its program of BCG in 2005 because it wasn't "cost effective" and also identified that there was only about a 15 year effective protection and so nations that don't do boosters, like the UK and France, will have less immunity. Strikingly, Sweden abandoned BCG in 1975, whereas Denmark and Finland stopped requiring it but made it optional after 1980. Spain and Italy never required or even recommended it. Germany started in 1961 stopped in 1998 so most all of its citizens who aren't children have it.
Perhaps Americans should start demanding BCG vaccinations now? Especially for elderly and at-risk individuals??? Why hasn't Dr. Fauci, who MUST absolutely be aware of this, made such a recommendation?