INTERVENTION REPORT #3
Tuesday May 19th, 2020
DEATH BY GOVERNMENT. THE REAL PANDEMIC. I've raised the question of how the insane reaction to the Wuhan-virus and our devastating suppression of our health care system might impact things like organ transplants. University of Pennslyvania has answered this question and it's pretty devastating. Procedures have dropped by 91% in France and 50% in America. The paper is published in The Lancent and the chart details what's happened as Wuhan-virus has spread across both countries.
Impact of Organ Transplants in France (A & B) and America (C & D)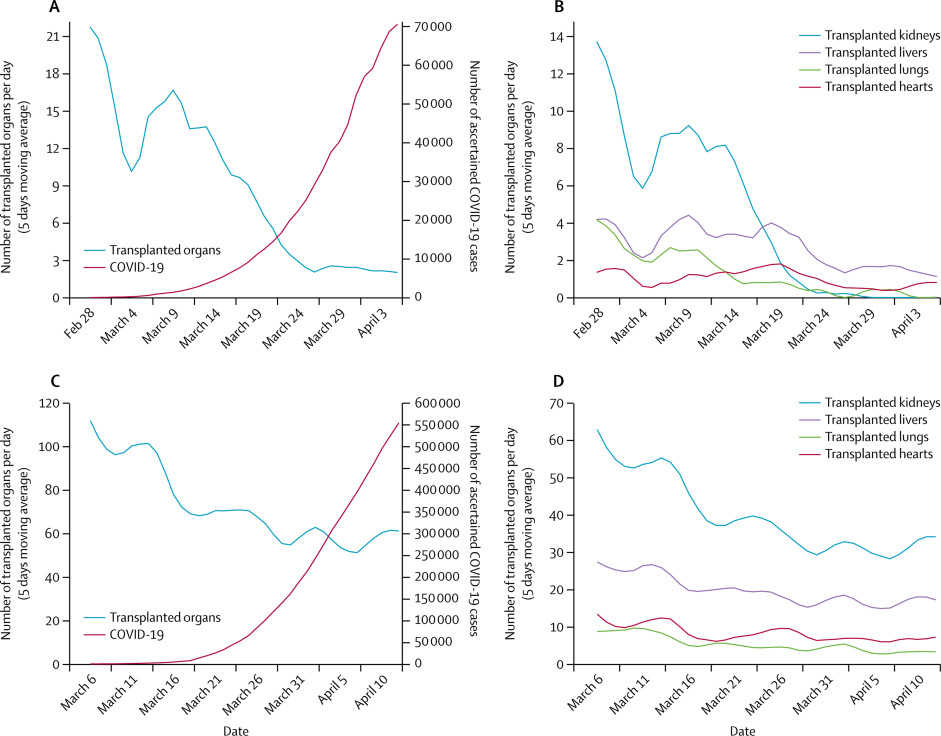 These are kidneys, livers, lungs, and hearts that were wasted and will never save a life now. Each one of these is a person who has died or will likely die that could have been saved. We didn't flatten the curve - we flattened our health care.
So how's it looking since we've started opening up?
Daily Deaths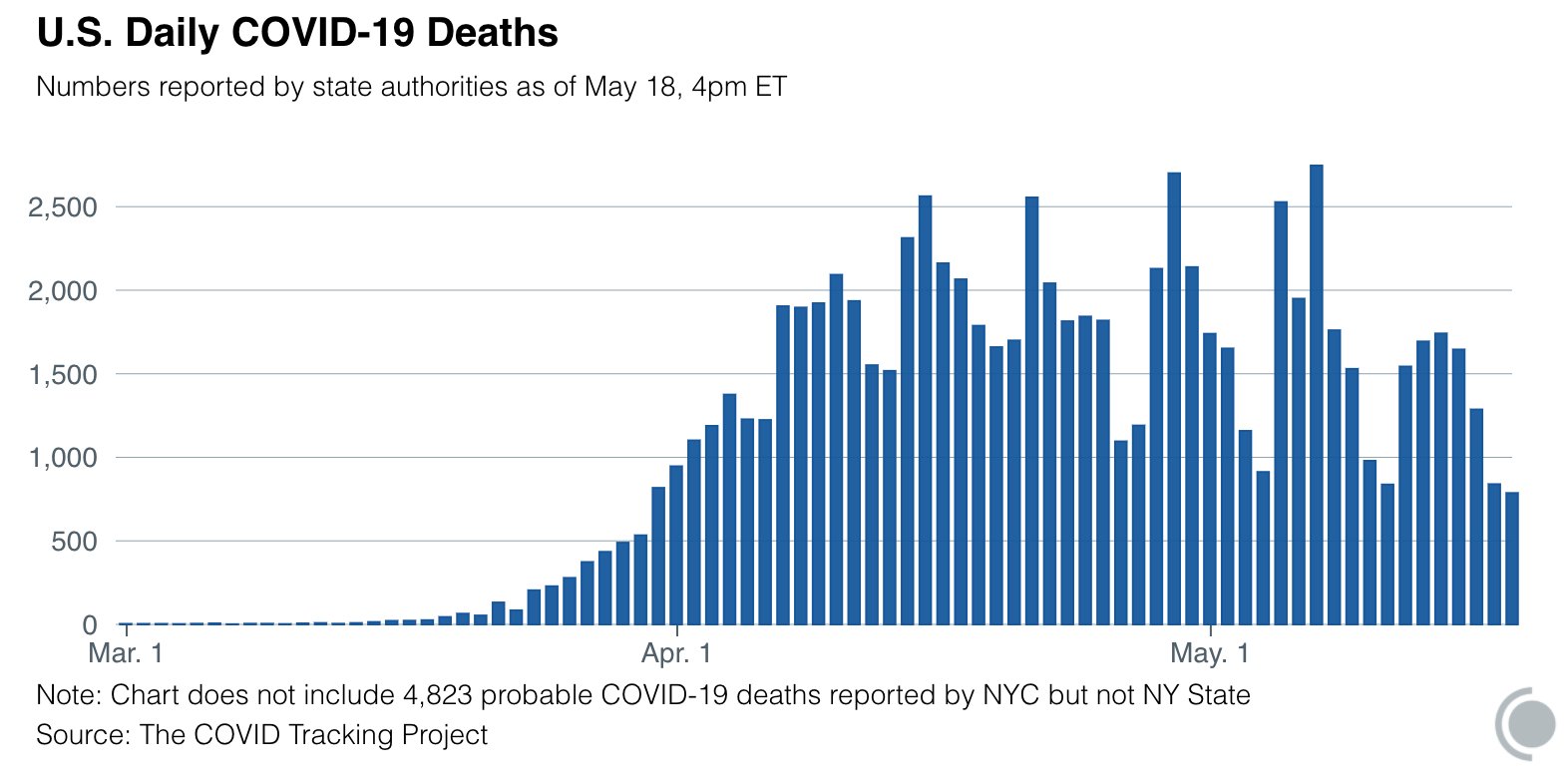 Tomorrow we'll see the typical Tuesday spike but the trend is impossible to misinterpret. The virus is burning itself out.
Effective May 18th, the new total for incidents is 1,499,722 (+19,866), an increase of 1.34% over the previous day (-0.10% from yesterday). Deaths have totaled 84,640 (+786 - lowest since March!) which is an increase of 0.94% the first time ever below 1% ROG (-0.07%) over the previous day. Since the peak in Mar 19, rates of growth for incidents has fallen by 50.29% and for deaths has fallen by 41.92%. There were 335,452 tests completed with a 5.92% positive rate.
I've documented how I came to be convinced that BCG vaccination programs are stopping deaths in countries around the world. Now my friend, Andrew Koenig, has forwarded this amazing article to me: MMR Vaccine Appears to Confer Strong Protection from COVID-19: Few Deaths from SARS-CoV-2 in Highly Vaccinated Populations. This article asserts that, thanks to the widespread introduction of MMR (measles, mumps, rebella) vaccine introduced in 1971 (I remember I got this), it provided a strong immunity to the Wuhan-virus and therefore explains why the radical point of almost no deaths to a great number of deaths occurs right around this age group of 50+.
COVID-19 Death Rate by Age Overlayed with Typical MMR Vaccine Age Range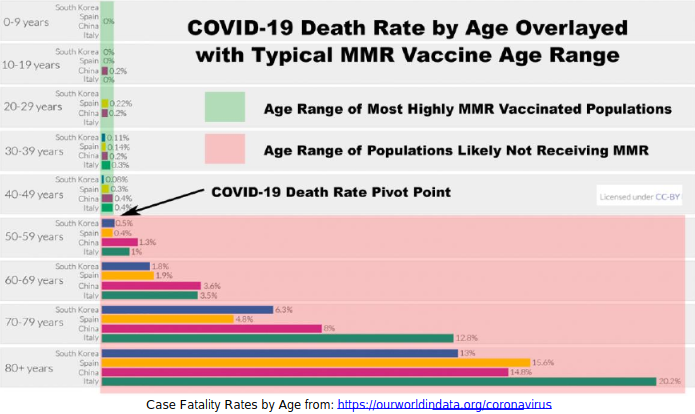 quote:
Globally, COVID-19 has what appears to be a clearly defined fatality rate pivot point close to 50 years old. From birth to age 49 the fatality rate from COVID-19 increases only slightly with each year of age. After age 50 the fatality rate from COVID-19 climbs quickly and steadily. This is very different from most other diseases.

Posted 29 March 2020. Last Updated 10 May 2020. v7.3 The MMR (measles, mumps, rubella) vaccine was introduced in 1971. It was most commonly given as a single vaccination from 1971-1978 then as a set of two vaccinations at least 28 days apart starting in 1979. Based upon its year of introduction, most people today aged 49 and under would likely have had at least one MMR vaccination, and those 41 and under would most likely have had two MMR vaccinations. This vaccine history may be a possible explanation for a COVID-19 death rate pivot point close to age 50. The fact that some aged 40-49 only received a single MRCV dose is a possible reason why this age range has a marginally higher death rate than those under 40.
end quote
This is now TWO examples of incredibly common, low risk, cheap vaccines that pretty much have stopped Wuhan-virus in their tracks everywhere they are tried - but yet we are locked in, shuttered, and awaiting our government saviors for a new vaccine that is likely to never come.
This is not about health care or safety. This is entirely about control.
To drive this point home, please watch this video (on Facebook) by Beth George where she tells us that she's "going to be one of the statistics that don't make it" and will be filing bankruptcy for her 30 year old business. Her governor won't allow her to reopen until there is a vaccine!
White Pines Resort Killed by Government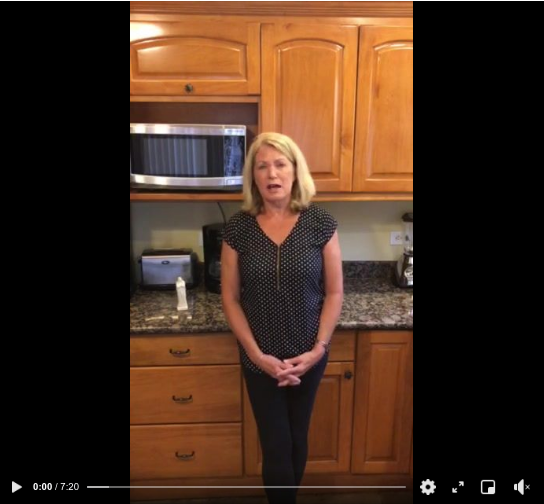 This is the face of America. Not Fauci, not ANY elected or non-elected government official who does not suffer the consequences of their bad policies. Watch this video and remember this proud woman who served a vast community for 3 decades and how that was destroyed with the stroke of a pen by her government - not by any pandemic that we couldn't master given the opportunity. Remember her when you hear someone claim that opening America is selfish and only people who are in it for the money and want people to die. Call them on their lies and hypocrisy. Don't let them get away with it. Don't ever let up on doing and saying what is right when it's so clear that everyone in charge and those who support these draconian measures are completely insane. Don't let them be the only voice that people will hear.
Beth ends her video saying, "I'm a survivor and I'm going to make it. I'm just not going to make it at White Pines." Pretty devastating. Everything she's created was destroyed without recourse by the whim of JB Pritzker, Governor of the State of Illinois. There's a GoFundMe setup to help Beth. If there's anyone that deserves our support it is her.